Steps To Your Driver's License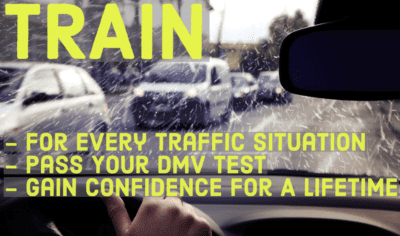 Tailored to San Ramon and Beyond
Our Driving School has a detailed plan which we cater to students of all levels.  Our instructors have a toolbox full of techniques for nearly every driving scenario, especially defensive driving methods.
We feel that San Ramon is an excellent location to begin driving with its wide, mildly hilly, and winding roads.  We will take you through the inner city, downtown Danville, through Camino Tassajara, and we will work towards 580/680 freeways.  Doughtery Road is an excellent road for lane changes at higher speeds and Bollinger Canyon road offers high traffic situations.
Getting Started
Start with the online knowledge course ($12.95)
Take 6 hours of Behind-The-Wheel training with our Driving School in San Ramon.
Complete 50 hours of driving practice with a parent/guardian for drivers under 18.
Pass the DMV driving test
For San Ramon Teenage Driver's:
We pick up students in the SRVUSD to include San Ramon High School, Doughtery Valley High School, California High School, and Diablo Valley Community College.  We welcome driver's of all ages over 15.5 years old and we welcome all experience levels.
Our Driving Lesson Packages
Two Hour Lesson
Tailored lessons for all levels
Refresher for the CA DMV Road Test
Pick-up/drop-off from home, school/work
Six Hour Package
Three 2-hour lessons. Most common package.
Tailored lessons for all levels
Fulfill DMV's 6 hours of training
DMV Completion Certificate
Six Hour + DMV Drive Exam
Three 2-hour lessons + 3-hours for DMV Test
3 Customized Driving Lessons
DMV Mock Tests
Use our vehicle for the DMV Exam
1 Hour + DMV Drive Exam
One hour refresher/mock tests + 2 hours for DMV Test
Ideal for Experienced Drivers
Mock DMV Exam prep
Use our vehicle for the DMV Exam
 About Us
History:  Our driving school is an affiliate of A Deluxe Driving School in the South Bay, helping students since 2004.
Top-Notch Driving Instructors:  Highly qualified and engaged Instructors.  Our instructors are certified by the California DMV [Driving School License #E2224].
Defensive Driving: We will integrate a Defensive Driving curriculum into your learning plan and will offer additional training by request such as driving in hazardous situations.
Mock DMV Test: The DMV drive test is approximately 15 minutes long and we will provide mock tests and will provide you with a DMV scoresheet evaluation.
Take these steps to help keep your teen safe on the road:
Ride along with your teen for at least 50-60 hours. Teens lack driving experience; therefore, the more they practice, the better.
Watch closely and make suggestions on how your teen can improve.
Practice with your teen at different times of day, in different kinds of weather, and in heavy and light traffic.
Restrict your teen's nighttime driving, and make sure your teen is off the road by 9 or 10 pm for at least the first six months he or she has a license.
Limit your teen to zero or one young passenger for at least the first six months he or she has a license.
Discuss your rules of the road with your teen. Create a Parent-Teen Driving Agreement that puts these rules in writing to set clear expectations and limits. Don't forget to update the agreement as your teen's experience increases.
15% of teens still do not buckle up. Require your teen to wear a seat belt on every trip. It is the simplest way to prevent car crash injuries and deaths.
Be a good role model for your teen and always buckle up!
Call us today to secure your appointment times:  (925) 66-DRIVE