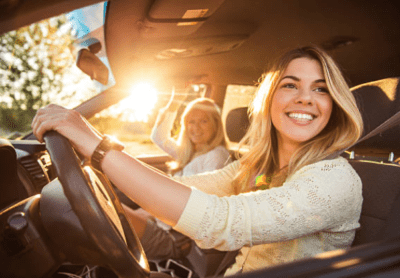 Quality. I know some people call to compare prices. I have heard our prices are good. I also have people who never called me back. I firmly believe that we do not compete in the business by having inexpensive lessons. We compete by having quality coaching and excellent customer service! When a student trains behind-the-wheel driving with us, he/she drives 95% of the two hour appointment. We treat everyone with respect, dignity, and integrity.
Comfort. To begin our lesson, it's important for the student to feel comfortable and gradually progress from one milestone to the next. Instead of rushing through a checklist, we thoroughly help students practice critical driving concepts by teaching each technique clearly. We run students through a series of exercises. Throughout the lesson, there is very little idle time and the coaches are constantly teaching during each 2 hour lesson.
Benefits. Driving is a great way to gain independence and convenience, but it's important to remember that it's also a big responsibility. The road can be unpredictable, so it's important to have a thorough understanding of traffic rules, safety precautions, and defensive driving techniques.
The need for professional coaches. That's where driving school comes in. A good driving school will teach you the basics of road safety, including traffic laws, road signs, and right-of-way rules. You'll also learn how to operate a vehicle safely, including how to start and stop smoothly, change lanes safely, and perform essential maneuvers like parking and reversing.
Defensive Driving. In addition to the basics, a good driving school will also teach you defensive driving techniques. Defensive driving is all about anticipating and reacting to potential hazards on the road. You'll learn how to maintain situational awareness, scan the road for potential dangers, and make informed decisions.
Traffic Awareness. Finally, a good driving school will also teach you about road and traffic awareness. This includes understanding how to read and interpret traffic conditions, identify potential risks, and adapt your driving accordingly. You'll also learn to recognize and respond to different road environments, such as highways, urban areas, and residential neighborhoods.
I know learning to drive can be a daunting task, but it doesn't have to be. With the right training, you can become a safe and confident driver.